01.06.2013 | Ausgabe 6/2013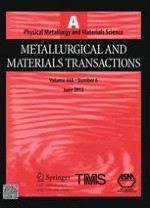 Plastic Flow and Microstructure Evolution during Thermomechanical Processing of a PM Nickel-Base Superalloy
Zeitschrift:
Autoren:

S. L. Semiatin, K. E. McClary, A. D. Rollett, C. G. Roberts, E. J. Payton, F. Zhang, T. P. Gabb
Wichtige Hinweise
Manuscript submitted March 28, 2012.
Abstract
Plastic flow and microstructure evolution during sub- and supersolvus forging and subsequent supersolvus heat treatment of the powder-metallurgy superalloy LSHR (low-solvus, high-refractory) were investigated to develop an understanding of methods that can be used to obtain a moderately coarse gamma grain size under well-controlled conditions. To this end, isothermal, hot compression tests were conducted over broad ranges of temperature [(1144 K to 1450 K) 871 °C to 1177 °C] and constant true strain rate (0.0005 to 10 s−1). At low temperatures, deformation was generally characterized by flow softening and dynamic recrystallization that led to a decrease in grain size. At high subsolvus temperatures and low strain rates, steady-state flow or flow hardening was observed. These latter behaviors were ascribed to superplastic deformation and microstructure evolution characterized by a constant grain size or concomitant dynamic grain growth, respectively. During supersolvus heat treatment following subsolvus deformation, increases in grain size whose magnitude was a function of the prior deformation conditions were noted. A transition in flow behavior from superplastic to nonsuperplastic and the development during forging at a high subsolvus temperature of a wide (possibly bi- or multimodal) gamma-grain-size distribution having some large grains led to a substantially coarser grain size during supersolvus annealing in comparison to that produced under all other forging conditions.