22.06.2020 | Ausgabe 9/2020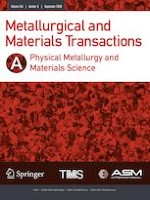 Plastic Flow During Hot Working of Ti-7Al
Zeitschrift:
Autoren:

S. L. Semiatin, N. C. Levkulich, A. A. Salem, A. L. Pilchak
Wichtige Hinweise
Manuscript submitted March 11, 2020.
Publisher's Note
Springer Nature remains neutral with regard to jurisdictional claims in published maps and institutional affiliations.
Abstract
Plastic flow during hot working of Ti-7Al with an equiaxed-
α
(fully-recrystallized) starting microstructure was quantified and interpreted via hot compression testing, metallographic/texture characterization, and internal-state-variable modeling. Isothermal, hot compression tests were conducted to axial strains of 0.2, 0.5, or 1.0 at temperatures of 1089 K, 1172 K, and 1227 K (816 °C, 899 °C, and 954 °C) and a constant true rate of 0.1 s
−1
. After correcting for deformation heating effects, all of the corresponding flow curves exhibited a high level of flow hardening at strains between 0 and ~ 0.2 followed by moderate hardening. Subsequent microstructure analysis
via
polarized-light, optical microscopy and electron-backscatter diffraction in a scanning-electron microscope revealed wrought grains containing substantial orientation gradients, small fractions (≤ 0.1) of very fine recrystallized grains at the initial grain boundaries, and small fractions of deformation twins. In view of the absence of discontinuous dynamic recrystallization except at large strains/high temperatures, viscoplastic, self-consistent (VPSC) crystal-plasticity analysis was performed to quantify the effect of crystallographic texture changes on plastic flow. For this purpose, simulations were done assuming (1) deformation
via
slip alone or slip plus twinning and (2) an absence of strain hardening. The VPSC simulations revealed similar texture
hardening
for both types of assumed deformation modes. Correction of the flow curves for such texture hardening resulted in material flow response comprising an initial strain-hardening transient followed by steady-state flow. The latter curves were analyzed in terms of the Yoshie–Laasraoui–Jonas single-state-variable formulation. The fitted dynamic-recovery and strain-hardening parameters were comparable to those found for fcc metals at hot working temperatures.