28.02.2018 | Original Paper | Ausgabe 4/2018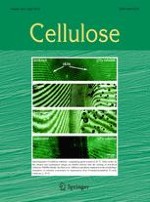 PMMA/TEMPO-oxidized cellulose nanofiber nanocomposite with improved mechanical properties, high transparency and tunable birefringence
Zeitschrift:
Autoren:

Tao Huang, Keiichi Kuboyama, Hayaka Fukuzumi, Toshiaki Ougizawa
Wichtige Hinweise
Electronic supplementary material
Abstract
Recently, cellulose nanofibers (CNFs) have been developed as a very popular renewable and biodegradable nanofiller material for polymer nanocomposites. However, achieving good dispersion in a polymer matrix for effective reinforcement is still a challenge because CNFs are hydrophilic, whereas most polymers are hydrophobic. In this study, we report the poly(methyl methacrylate)/2,2,6,6-tetramethylpiperidyl-1-oxyl oxidized CNFs (PMMA/TOCN) nanocomposites, which show good dispersion, improved mechanical properties, excellent transparency, as well as controllable birefringence using a simple surface-modification procedure of TOCN with amine-functionalized poly(ethylene glycol). Studies conducted using transmission electron microscopy and fourier transform infrared spectroscopy showed that TOCNs were homogenously dispersed in the PMMA matrix without aggregation due to the successful surface modification of TOCN. Moreover, the nanocomposites were highly transparent and the transmittance in the visible region was as high as approximately 90%. In addition, we firstly discovered that the birefringence of the nanocomposite could be controlled by the amount of TOCN added, even achieving zero birefringence. More importantly, the tensile strength and Young's modulus of PMMA were significantly improved with the addition of TOCN. Such well-dispersed TOCN-based nanocomposites with high transparency, controllable birefringence and enhanced mechanical properties exhibit great potential for the applications in the optical devices and in the engineering field.