13.04.2017 | Ausgabe 1/2018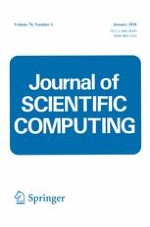 POD/DEIM Reduced-Order Modeling of Time-Fractional Partial Differential Equations with Applications in Parameter Identification
Zeitschrift:
Autoren:

Hongfei Fu, Hong Wang, Zhu Wang
Wichtige Hinweise
The authors are grateful for the supports from the National Natural Science Foundation of China through Grants 11201485, 11471194, 11571115 and 91630207, the Fundamental Research Funds for the Central Universities through Grants 14CX02217A and 16CX02050A, the National Science Foundation through Grants DMS-1522672, DMS-1216923 and DMS-1620194, the OSD/ARO MURI Grant W911NF-15-1-0562, and the office of the Vice President for Research at University of South Carolina from the ASPIRE-I program.
Abstract
In this paper, a reduced-order model (ROM) based on the proper orthogonal decomposition and the discrete empirical interpolation method is proposed for efficiently simulating time-fractional partial differential equations (TFPDEs). Both linear and nonlinear equations are considered. We demonstrate the effectiveness of the ROM by several numerical examples, in which the ROM achieves the same accuracy of the full-order model (FOM) over a long-term simulation while greatly reducing the computational cost. The proposed ROM is then regarded as a surrogate of FOM and is applied to an inverse problem for identifying the order of the time-fractional derivative of the TFPDE model. Based on the Levenberg–Marquardt regularization iterative method with the Armijo rule, we develop a ROM-based algorithm for solving the inverse problem. For cases in which the observation data is either uncontaminated or contaminated by random noise, the proposed approach is able to achieve accurate parameter estimation efficiently.