2019 | OriginalPaper | Buchkapitel
5. Policy Design for Vocational Pathways to Protect Biodiversity and Regenerate the Land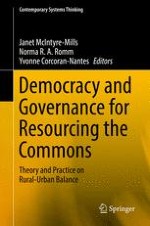 Erstes Kapitel lesen
Autor: Janet McIntyre-Mills
Abstract
The aim of the paper is to make the case for educational pathways to address the big issues of the day, namely, poverty, climate change and competition for resources in an increasingly unequal world where the gaps between rich and poor grow wider.
Internationally, the problem is that education is increasingly shaped within neoliberal institutions that measure the value of educational outcomes in ways that can limit creativity and devalue diverse ways of knowing that are vital for protecting both people and the planet.
Education needs to inspire learners of all ages to voice their ideas and to draw on many strands of experience (across diverse age cohorts) to prevent the loss of knowledge. A case is made for changing the way in which we educate people in the interests of regenerating biodiversity in this generation and the next through valuing lived experience and cultural memory.