2018 | OriginalPaper | Buchkapitel
6. Political Activism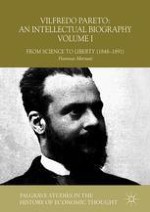 Erstes Kapitel lesen
Autor: Fiorenzo Mornati
Abstract
This chapter addresses another aspect of Pareto's intellectual development in the years preceding Lausanne which has hitherto been dealt with only in a superficial and anecdotal manner, that is, his political activism. We begin in Sect.
6.1
with a broad and fully documented account of the electoral campaign culminating in Pareto's ill-fated candidacy in the elections of October 1882. This defeat, while initially accepted stoically by Pareto, led him to avoid any repetition of the experience and undoubtedly contributed to the profound aversion for politicians which deeply underlay his later thoughts on political events. This is followed by accounts of his experiences with the municipal council of San Giovanni Valdarno (Sect.
6.2
), of his antipathy towards Italian colonialist ventures (Sect
6.3
) and of his progressive but short-lived enthusiasm for the Italian radical party (Sect.
6.4
) after a decade of loyalty to the conservative liberalism of Florentine political circles.