06.07.2021 | Ausgabe 3/2021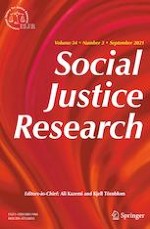 Political Consequences of Income Inequality: Assessing the Relationship Between Perceived Distributive Fairness and Political Efficacy in Asia
Zeitschrift:
Autoren:

Daewoo Lee, Chae Young Chang, Hyunkang Hur
Wichtige Hinweise
Supplementary Information
Publisher's Note
Springer Nature remains neutral with regard to jurisdictional claims in published maps and institutional affiliations.
Abstract
A vast literature suggests that income inequality is a crucial precursor for numerous political outcomes. High-level income inequality can have consequences for people's subjective beliefs about their ability to participate in politics effectively, a concept known as political efficacy. In this research, we explore how individuals' perceptions of income inequality are related to their sense of political efficacy. While previous studies on political outcomes of income inequality have focused on objective, country-level inequality indicators, we focus on subjective perception—how individuals' perceptions of distributive fairness are related to political efficacy. Drawing on data from the fourth wave of the Asian Barometer Survey (ABS) (2014 ~ 2016), we show that the perception of unfair income distribution negatively affects political efficacy. We posit a mediator in the association, namely the individual's preference for government's redistributive role, as a linking mechanism between the perception of income inequality and political efficacy. Using the Markov chain Monte Carlo (MCMC) Bayesian multilevel model, we also present how country-level variation in income inequality exerts a moderating effect on the association. Our findings suggest that political efficacy is partially linked to how people perceive (un)fair income distribution and subsequent expectations of the government's role in redistribution.