2018 | OriginalPaper | Buchkapitel
5. Politics, Corruption, and Economic Growth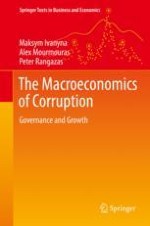 Erstes Kapitel lesen
Autoren: Maksym Ivanyna, Alex Mourmouras, Peter Rangazas
Abstract
Chapter
4
extended the two-period investment model to form a complete growth model. Here, we add endogenous theories of fiscal policy with selfish political motives, in the spirit of Chap.
3
, to the growth model. First, we examine the consequence of a powerful kleptocracy for the economic growth of a developing country. Next, we consider a less drastic scenario, where there is interest group pressure on the government of a developing country that may bias policies against economic development. In Chap.
3
, we saw how a proliferation of interest groups causes a rise in government transfers as democracies mature in the later stages of development. An important interest group during the early stages of development is comprised of large landowners. In this chapter we focus on the interaction between the political influence of landowners, the structural transformation, and the tax base that affects the growth in governments of developing countries. Finally, we examine the interplay between tax evasion and corruption by public officials and its consequences for private and public capital accumulation.