01.10.2020 | Original Article | Ausgabe 19/2020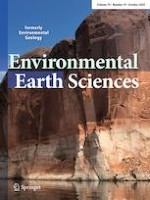 Pollen and diatom evidence of sea water intrusion, east flood canal (Banjir Kanal Timur), Semarang, Indonesia
Zeitschrift:
Autoren:

Tri Retnaningsih Soeprobowati, Sri Widodo Agung Suedy, Ali Arman Lubis, Jerry Miller
Wichtige Hinweise
Publisher's Note
Springer Nature remains neutral with regard to jurisdictional claims in published maps and institutional affiliations.
Abstract
Semarang City, Indonesia is plagued by a combination of widespread flooding during the wet season and a lack of fresh (potable) water during the dry season, the latter related to saltwater intrusion. The East Flood Canal (Banjir Kanal Timur = BKT) was built to address these problems by improving runoff (drainage) and increasing groundwater recharge. This research was conducted to reconstruct the history of environmental change, including seawater intrusion, along the coast of Semarang using pollen and diatom assemblages from a 190-cm-long,
210
Pb-dated sediment core extracted from the estuary at the mouth of the BKT. The age of the sediments within the core ranged over 160 years (the surface dated to 2014). The sediments could be subdivided into three zones on the basis of pollen assemblages and 2 zones on the basis of diatom assemblages. Lower zone assemblages, dominated by
Sonneratia alba
(mangrove),
Acrostichum aureum
(Pteridophyte), and
Cocconeis pediculus
(an epiphytic diatom), indicate that historically, the estuarine ecosystem was relatively open to the Java Sea and characterized by periods of marine and freshwater conditions. Thereafter, an upward increase in saline mangrove species of pollen and diatoms, combined with the loss of freshwater species (e.g.,
Avicennia
and
Rhizophora),
indicates an increasing prevalence of marine conditions at the mouth of the BKT. Increasing salinity was associated with a landward shift in the mangrove ecosystem, a trend indicated by the progressive increase in mangrove plant diversity as statically manifested by the three pollen zones. This landward shift was associated with a "closing off" of marine flow in response to a significant (order of magnitude) increase in the estuarine sedimentation rates at about 1981. Increased sedimentation was presumably related to land-use changes that enhanced sediment delivery to the coast via the BKT. Inherent in these sediments were allochthonous fragments of
Asterionella formosa
, a freshwater species found in the upper sediment layers. The results of this study are consistent with the increased saltwater intrusion along the coast and a decline in groundwater quality.