23.04.2019 | Research Article | Ausgabe 1/2019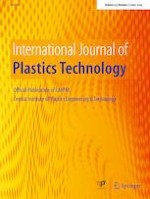 Poly(acrylic acid-
co

-styrene)/clay nanocomposites: efficient adsorbent for methylene blue dye pollutant
Zeitschrift:
Autoren:

Zoulikha Djamaa, Djahida Lerari, Abderrezak Mesli, Khaldoun Bachari
Wichtige Hinweise
Publisher's Note
Springer Nature remains neutral with regard to jurisdictional claims in published maps and institutional affiliations.
Abstract
In this contribution, polymer/clay (nano)composites, based on poly(acrylic acid) (PAA) and poly(acrylic acid-
co
-styrene) poly(AA-
co
-St), were synthesized by free radical polymerization, using 2,2′-azobis(isobutyronitrile) (AIBN), as initiator and organomodified clay (OMMT), as nanofillers. The structural and morphological characteristics of the obtained (nano)composites, PAA/OMMT (1, 3, 5 wt%), poly(AA
75
-
co
-St
25
)/OMMT (3 wt%) and poly(AA
25
-
co
-St
75
)/OMMT (3 wt%), were examined by X-ray diffraction and scanning electron microscopy, indicating the successful intercalation of polymer chains into the clay nanoplatelets. Thermal properties of obtained (nano)composites were evaluated according to thermogravimetric analysis and differential scanning calorimetry. Based on morphological and thermal results, poly(AA
25
-
co
-St
75
)/OMMT (3 wt%) (nano)composite was selected as an efficient adsorbent matrix for methylene blue dye, with about 74% of elimination obtained after only 80 min of swelling, under soft conditions.