08.10.2018 | Original Paper | Ausgabe 7/2019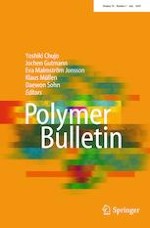 Poly(tertiary amine) as a surface-active multifunctional macro-initiator in Cu2+–amine redox-initiated radical emulsion polymerization of methyl methacrylate
Zeitschrift:
Autoren:

Jie Gao, Guangqun Zhai
Abstract
Redox-initiated radical polymerization of methyl methacrylate (MMA) using poly(2-(
N
,
N
-dimethylamino)ethyl methacrylate) (PDMAEMA) or poly(
N
-[3-(
N
,
N
-dimethylamino)]propyl methacrylamide) (PDMAPMA) as a surface-active multifunctional reducing agent, vis-à-vis low-molecular-weight (MW) analogs, was performed in aqueous emulsion at 70 °C using CuSO
4
or FeCl
3
complexes as an oxidizing agent and poly(ethylene glycol) as a nonionic emulsifier, to examine their effect on emulsification, rate of polymerization and the structure of final resultants. The kinetics was followed gravimetrically, while the MW of the resultants was monitored by gel permeation chromatography. CuSO
4
complexes exhibited a higher activity than FeCl
3
complexes in both cases, and the polymerization evolved at a faster rate than those with low-MW tertiary amines. The MW of the resultants increased by several folds with respect to pristine PDMAEMA or PDMAPMA initially, but adversely decreased with further reaction, owing to the formation of free PMMA chains. The control experiments suggested that the transition metal cation complexes promote the hydrolysis of ester/amide moieties. Cu
II
-catalyzed hydrolysis of PDMAEMA or PDMAPMA occurred steadily during the Cu
II
–PDMAEMA or PDMAPMA redox-initiated radical polymerization of MMA, leading to gradual accumulation of low-MW tertiary amines. During the later stage, the radical polymerization was primarily redox-initiated by pairs of Cu
II
complexes and low-MW tertiary amines, giving rise to the formation of free PMMA chains.