01.10.2011 | Original Paper | Ausgabe 1/2011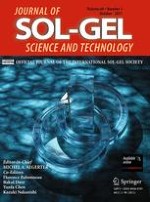 Polybenzoxazine–silica (PBZ–SiO2) hybrid nanocomposites through in situ sol–gel method
Zeitschrift:
Autoren:

S. Devaraju, M. R. Vengatesan, A. Ashok Kumar, M. Alagar
Abstract
New type of Polybenzoxazine–silica (PBZ–SiO
2
) hybrid nanocomposites was prepared through in situ sol–gel method. Benzoxazine was synthesized using bisphenol-A,
trans
-4-aminocyclohexanol hydrochloride and formaldehyde solution through Mannich condensation reaction and was characterized by FT-IR,
1
HNMR and
13
CNMR spectroscopy. The methodology adopted in the present study involves to formation of hydrogen bond interaction between the benzoxazine monomer and the silica matrix, followed by the ring opening polymerization of benzoxazine monomer through thermal curing to obtain a red brown transparent PBZ–SiO
2
hybrid. The formation of hybrid nanocomposites was confirmed by FT-IR. Thermal and morphological properties of the hybrid materials were investigated by the differential scanning calorimetry (DSC), thermo gravimetric analysis (TGA), scanning electron microscopy (SEM). The PBZ–SiO
2
hybrids show improved thermal properties and glass transition (Tg) temperature. The nitrogen porosimetry study was carried out to confirm the nanometer level integration of polybenzoxazine in the PBZ–SiO
2
hybrid nanocomposites.