06.10.2016 | ORIGINAL ARTICLE | Ausgabe 1/2018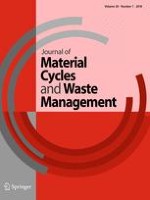 Polychlorinated biphenyls (PCBs) and halogenated flame retardants (HFRs) in multi-matrices from an electronic waste (e-waste) recycling site in Northern China
Zeitschrift:
Autoren:

Wen-Jun Hong, Hongliang Jia, Yongsheng Ding, Wen-Long Li, Yi-Fan Li
Wichtige Hinweise
Electronic supplementary material
The online version of this article (doi:
10.​1007/​s10163-016-0550-8
) contains supplementary material, which is available to authorized users.
Abstract
The present study investigated the occurrence of polychlorinated biphenyls (PCBs) and halogenated flame retardants (HFRs) in soil, water, reed, air and dust samples collected from the e-waste recycling region in Ziya Town, Northern China. The results showed that the concentrations of PCBs reached relative high level in environmental matrices in the study area. HFRs including polybrominated diphenyl ethers (PBDEs), dechlorane plus (DP), allyl 2,4,6-tribromophenyl ether (ATE), tetrabromoethylcyclohexane (TBECH), pentabromotoluene (PBT), pentabromoethylbenzene (PBEB), 2,3-dibromopropyl 2,4,6-tribromophenyl ether (DPTE), 1,2-bis-(2,4,6-tribromophenoxy) ethane (BTBPE) and so on were also widely detected in multi-matrices. Long-range atmospheric transport (LRAT) potentials of non-BDE HFRs were assessed to address the LRAR abilities of these compounds. Analysis of soil–air exchange of PCBs and HFRs showed that soil acted as a secondary source to the atmosphere only for a few low molecular weight compounds, while the direction of the flux of most detected chemicals was from air to soil.