2014 | OriginalPaper | Buchkapitel
18. Polyethylenes and Their Blends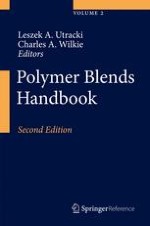 Erstes Kapitel lesen
Autor: Leszek A. Utracki
Verlag: Springer Netherlands
Abstract
Several books offer information on various aspects of polyolefin (PO) synthesis, technology, performance, as well as on the preparation, fundamentals, and degradability and recyclates of polymer alloys and blends (PAB) [Utracki and Weiss,
Multiphase Polymers: Blends and Ionomers
. ACS Symposium Series, vol. 395 (Washington, DC, 1989); Utracki
Polymer Alloys and Blends
(Hanser, Munich, 1989); J. Rheol.
35
(8), 1615–1637, 1991;
Encyclopaedic Dictionary of Commercial Polymer Blends
(Chem Tec Pub., Toronto, 1994); Makromol. Chem. Macromol. Symp.
118
, 335–345, 1997,
Commercial Polymer Blends
(Chapman & Hall, London, 1998); Zweifel,
Stabilization of Polymeric Materials
(Springer, Berlin, 1998); Moeller,
Progress in Polymer Degradation and Stability Research
(Nova Sci. Publ., New York, 2008); Anand (ed.),
National Seminar on Emerging Trends in Plastic Recycling Technologies and Waste Management
(Goa, India, 1995);
Recycling and Plastics Waste Management, Proceedings of National Seminar
(CIPET, Chennai, 1997); Akovali et al.,
Reprocessing of Commingled Polymers and Recycling of Polymer Blends
. NATO ASI, vol. 351 (Kluwer, Dordrecht, 1998)]. There are also encyclopedic editions on PAB, e.g., Utracki [
Encyclopaedic Dictionary of Commercial Polymer Blends
(Chem Tec Pub., Toronto, 1994, 2013); Isayev (
Encyclopedia of Polymer Blends
(Wiley-VCH, Weinheim, 2010–2014)].
The first patent on PAB was granted to Parkes in 1846 for two natural polymers co-vulcanized during blending in the presence of CS
2
, i.e., a natural rubber (NR = amorphous
cis
-polyisoprene, IR) with gutta-percha (GP = semicrystalline
trans
-polyisoprene, IR). Thus, rubber PAB predates that of synthetic polymers by ca. 80 years (PMA/PVAc 1929). Notably, while the early plastics were bio-based, their usage fell to <5 wt% nowadays slowly recovering from the absolute dominance of synthetic, petroleum-based plastics.
PO is a part of the commodity resin category, where the continuous use temperature (CUT) ≤ 75 °C. Specifically, to this category belong polyethylenes (PE), polypropylenes (PP), styrenics (PS), acrylics (PMMA), and vinyls, such as poly(vinyl chloride) (PVC). The relative importance of commodity resin is evident from the data displayed in Fig.
18.1
.
In the 1900s, world plastic production was about 30 kt, increasing to 300 Mt by the year 2010. Figure
18.1
shows the growth after 1960, extrapolated to 2020. Accordingly to Pardos Marketing [Pardos Marketing] plastic consumption is dominated by the commodity resins to the extent that the total consumption of plastics on the plot is indistinguishable from that of commodity resin. Notably, within the commodity resin category, PE contribution is 45–55 wt%.
The 75th anniversary of the invention of the first commercial PE seemed to be an appropriate occasion for summarizing in a (relatively) short chapter the factors that create such a vast spectrum of materials often having unexpected properties. Considering the character of the Polymer Blends Handbook – 2 (PBH-2), the Chapter provides concise, fundamental information in a historical perspective, starting with single PE resins before addressing PE blends. It also offers extensive tabulated data, useful for readers.
The chapter is divided into 19 parts, including classification of PE resin, their discovery and historical evolution, and methods and equipment of PE characterization, and then PE blends preceded by greatly abbreviated fundamentals and followed by description of various mixtures. In view of the importance of miscibility for processability and performance of PE blends, this aspect is particularly stressed.