01.01.2015 | Original Paper | Ausgabe 1/2015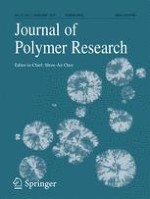 Polyimide nanocomposite films containing α-Fe2O3 nanoparticles
Zeitschrift:
Autoren:

Zahra Rafiee, Leila Golriz
Abstract
In this study, novel polyimide/α-Fe
2
O
3
(PI/α-Fe
2
O
3
) hybrid nanocomposite films were synthesized via thermal curing of different amount of modified α-Fe
2
O
3
nanoparticles containing poly(amic acid) derived from 3,5-diamino-
N
-(9H-fluoren-2-yl)benzamide and 3,3′,4,4′-benzophenonetetracarboxylic dianhydride in
N
-methyl-2-pyrrolidone. To improve the dispersion and obtain the homogeneous distribution of α-Fe
2
O
3
in polymeric matrix, the surface of nanoparticles was modified to organophile with γ-aminopropyltriethoxy silane. The PI/α-Fe
2
O
3
nanocomposite films were characterized by Fourier transform infrared spectra, X-ray diffraction and transmission electron microscopy (TEM). The TEM results confirm that the nanoparticles were dispersed uniformly in PI matrix on nanoscale. Additionally, thermogravimetric analysis data showed an improvement of thermal stability of novel nanocomposite films as compared to the pure polymer.