01.10.2011 | Original paper | Ausgabe 7/2011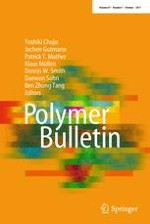 Polyimides based on furanic diamines and aromatic dianhydrides: synthesis, characterization and properties
Zeitschrift:
Autoren:

Leila Ben Maktouf, Ines Ghorbel, Aljia Afli, Souhir Abid, Alessandro Gandini
Abstract
Novel polyimides containing furan moieties were prepared from the resulting furanic diamine monomers with various aromatic dianhydrides including 1,2,4,5-benzene-tetracarboxylic dianhydride, 3,3′,4,4′-biphenyltetracarboxylic dianhydride, 4,4′-oxydiphthalic anhydride, and hexafluoroisopropylidene 2,2-bis(phthalic anhydride), via a two-step process. The resulting polyimides were characterized by solubility tests, viscosity measurements, FTIR,
1
H NMR spectroscopy, differential scanning calorimetric (DSC), and thermogravimetric analysis (TGA) analysis. The polyimides with inherent viscosities in the range of 0.048–0.095 L/g showed excellent solubility in aprotic amide and organic solvents, such as
N
,
N
-dimethylacetamide,
N
-methyl-2-pyrrolidinone, dimethylformamide and acetone, chloroform, etc. DSC showed glass transition temperatures (
T
g
) in the range of 116–143 °C. These polymers showed excellent thermal stability up to 390 °C.