2014 | OriginalPaper | Buchkapitel
1. Polymer Blends: Introduction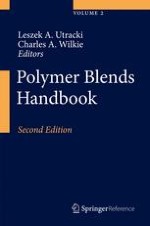 Autoren: Leszek A. Utracki, P. Mukhopadhyay, R. K. Gupta
Verlag: Springer Netherlands
Jetzt einloggen
Abstract
While this chapter serves as an introduction to all the subsequent chapters, it is quite comprehensive. A brief history as well as information on polymer synthesis, nomenclature, and properties is provided. The need to formulate polymer alloys and blends and the resulting benefits are explained. Since the vast majority of polymer pairs are thermodynamically immiscible, compatibilization and reactive extrusion are necessary to improve interfacial adhesion and to optimize blend performance. How polymer morphology is influenced both by blend composition and the imposed process conditions is discussed first. This provides the theoretical basis for understanding the concept of polymer blending.
The raison d'etre of polymer blending is developing materials having enhanced performance. Performance itself depends on the polymer pair types employed, their relative amounts, extent of miscibility, nature and amount of compatibilizer used, and the method of blending. A key issue is the process of mixing polymers during which blends undergo a complex combination of shear and elongation and the evolution of blend microstructure becomes crucial and requires close attention. Each category of polymer pairs, from commodity resins and their blends, to engineering resins and their blends, and to specialty polymers and their blends is discussed in detail. Pertinent theoretical as well as experimental results are presented and reviewed.
The concern over environmental issues and sustainability has opened up another vibrant research field, namely, biobased and biodegradable polymer blends. An overview of major developments and recent trends in biodegradable blends with an emphasis on PLA blends are also discussed. This chapter closes with an outlook for the future of this important subject.