01.10.2016 | Original Contribution | Ausgabe 10/2016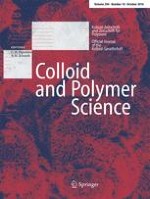 Polymer brush synthesis on surface modified carbon nanotubes via in situ emulsion polymerization
Zeitschrift:
Autoren:

Miftah U. Khan, Kakarla Raghava Reddy, Theedanai Snguanwongchai, Enamul Haque, Vincent G. Gomes
Wichtige Hinweise
Miftah U. Khan, Kakarla Raghava Reddy, and Theedanai Snguanwongchai contributed equally to this work.
Abstract
In situ emulsion polymerization was employed for synthesizing carbon nanotube (CNT) composites in a colloidal system with poly(styrene) or PS to form nanostructured brush. CNTs were initially functionalized with oleic acid, followed by silanization with (3-aminopropyl) triethoxysilane to impart cross-linking properties. Styrene monomers were efficiently grafted to surface modified CNT via emulsion polymerization with variable CNT concentrations. FTIR analyses of the functionalized CNT and PS/CNT composites confirmed the bond formation and effectiveness of the developed experimental method. X-ray photoelectron spectroscopy confirmed the presence of the desired bonds and the composition of the composites. Structural properties of the composites characterized by TEM confirmed excellent deagglomeration and dispersion of CNTs in PS/CNT composite. Thermal characteristics from TGA and DSC data showed enhanced properties for the nanocomposites as a function of the CNT content. BET measurements indicated significant improvements in surface area and pore volume with enhancements in gas sorption for the polymer nanocomposites.