31.10.2018 | Original Contribution | Ausgabe 12/2018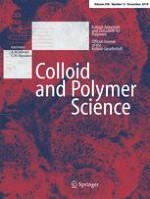 Polymer/silica hybrid hollow nanoparticles with channels and thermo-responsive gatekeepers for drug storage and release
Zeitschrift:
Autoren:

Chenglin Wu, Xia Chen, Zhicai He
Wichtige Hinweise
Electronic supplementary material
Abstract
Polymer/silica hybrid hollow nanoparticles (PSHNs) with channels and thermo-responsive gatekeepers for drug storage and on-off release were successfully synthesized using core-shell polymeric micelles of poly(
N
-isopropylacrylamide)-
b
-poly(4-vinylpyridine) (PNIPAM-
b
-P4VP) as a template. The core cavity was easily obtained using a thermo-responsive PNIPAM polymer without the application of calcination techniques. PSHNs featuring channels and thermo-responsive gatekeepers formed due to the swollen and soluble PNIPAM segment. The void volume and thickness shell of the PSHNs could be tuned by adjusting the pH value and temperature of the solution, as well as the mean polymeric micelle diameter and the molar ratio of TMOS to P4VP. Doxorubicin (DOX) was used as a model drug loaded into the PSHNs. A high drug loading content was achieved due to the hollow core and large surface area of the PSHNs.