17.09.2017 | Original Contribution | Ausgabe 11/2017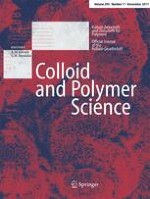 Polymeric vehicles for transport and delivery of DNA via cationic micelle template method
Zeitschrift:
Autoren:

Emi Haladjova, Mariya Kyulavska, Jordan Doumanov, Tanya Topouzova-Hristova, Petar Petrov
Abstract
This work describes the preparation of polymeric non-viral system for transport and delivery of nucleic acids. An amphiphilic poly(2-(dimethylamino)ethyl methacrylate)-block-poly(ε-caprolactone)-block-poly(2-(dimethylamino)ethyl methacrylate) (PDMAEMA
20
-
b
-PCL
70
-
b
-PDMAEMA
20
) triblock copolymer was synthesized and used for formation of cationic micelles and subsequent complexation with DNA. Next, a protective polymer coating on the complex surface and removal of copolymer from the particle interior were conducted. In this way, polymer nanocapsules containing DNA molecules were obtained. The synthesized polymer, cationic micelles, complexes, and polymer capsules were investigated by proton nuclear magnetic resonance, gel permeation chromatography, dynamic and electrophoretic light scattering, and transmission electron microscopy. In vitro cytotoxicity assessment of the different systems revealed very good tolerance to human cells.