01.11.2009 | Original Contribution | Ausgabe 11/2009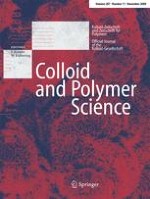 Polypeptide hybrid copolymers as selective micellar nanocarriers in nonaqueous media
Zeitschrift:
Autoren:

Guillermo Orts Gil, Sylvain Prévost, Magdalena Łosik, Florian Hermes, Helmut Schlaad, Thomas Hellweg
Abstract
The self-assembly of polystyrene-block-poly(
l
-lysine) (PS-PLLys·HCl) copolymers with different block lengths has been studied in toluene. The obtained spherical micelles exhibit size variations upon addition of acids or bases, as indicated by light and neutron scattering studies. It is shown that pyridine induces a shrinking of the polystyrene chains in the corona region of the micelles, decreasing the aggregate solvent interface. The addition of benzoic acid, on the other hand, leads to a swelling of the copolymer micelles proportional to the molar fraction of polypeptide. This behavior suggests a selective permeability of the PS-PLLys micelles and the possibility to encapsulate organic compounds in toluene depending on their chemical nature.