28.01.2016 | Original Paper | Ausgabe 9/2016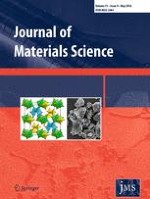 Polypropylene/hydroxyl-multiwall carbon nanotubes composites: crystallization behavior, mechanical properties, and foaming performance
Zeitschrift:
Autoren:

Zhishan Li, Mingjie Chen, Weihua Ma
Wichtige Hinweise
Electronic supplementary material
The online version of this article (doi:
10.​1007/​s10853-016-9770-5
) contains supplementary material, which is available to authorized users.
Abstract
Polypropylene (PP) is a kind of semi-crystalline polymer so it is hard to foam with supercritical carbon dioxide (SCCO2). We used hydroxylated multi-walled carbon nanotubes (HO-MWCNTs) as a modifier or nucleator to improve the crystallization behaviors and foaming performance of PP. We prepared the PP/HO-MWCNTs nanocomposite, foamed with SCCO2, and then compared with the pure PP. Results showed that the addition of HO-MWCNTs can make the crystallization type change from homogeneous to heterogeneous nucleation. With the increase of nucleation sites, the nucleation rate increased and the spherulites of the PP/HO-MWCNTs nanocomposite became finer and more uniform. With the formation of an interconnected network in the matrix at an appropriate addition of HO-MWCNT, the tensile strength increased, and the cell of foams was denser and smaller compared with pure PP when foamed with SCCO2 by a high-temperature impregnation method. When the content of HO-MWCNTs reached 1.0 %, the dispersion of HO-MWCNTs in PP matrix is the best and the foaming performance was improved the most significantly. Furthermore, the foaming performance became more stable and the dependence on foaming conditions such as pressure was weakened after addition of HO-MWCNTs.