16.10.2018 | Original Paper | Ausgabe 12/2018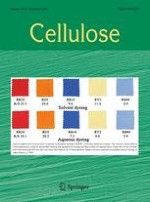 Polypyrrole-coated cotton fabric decorated with silver nanoparticles for the catalytic removal of
p

-nitrophenol from water
Zeitschrift:
Autoren:

Mohamad M. Ayad, Wael A. Amer, Sawsan Zaghlol, Nela Maráková, Jaroslav Stejskal
Abstract
The development of new catalytic transformations with easy separation and recyclability is essential in chemical synthesis. An efficient heterogeneous catalytic system composed of a conducting polymer, polypyrrole (PPy), deposited on cotton fabric support, and decorated with silver nanoparticles is described. Such ternary composites can be used in environmental issues, such as water-pollution treatment. The model reduction of
p
-nitrophenol to
p
-aminophenol with sodium borohydride was investigated by means of UV–visible spectroscopy. The reaction was catalyzed even by PPy alone and the catalytic effect was strongly enhanced by silver nanoparticles. It obeys the first-order kinetics. The catalytic effect increases with the catalyst dose due to increased number of catalytic sites. This also applies to the increased content of silver. The elevated temperature as well as the reduced polarity of the reaction medium have negative effect on the catalyst performance. The catalysts can be reused several times while maintaining good efficiency. The ternary composites are thus good candidates for the catalytic reductive removal of toxic compounds from water.