01.10.2019 | ORIGINAL PAPER | Ausgabe 10/2019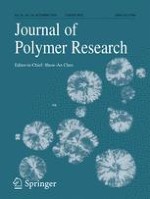 Polypyrrole doped graphene oxide reinforced epoxy nanocomposite with advanced properties for coatings of mild steel
Zeitschrift:
Autoren:

Katayoun Amirazodi, Mehdi Sharif, Mehrdad Bahrani
Wichtige Hinweise
Publisher's note
Springer Nature remains neutral with regard to jurisdictional claims in published maps and institutional affiliations.
Abstract
In this paper epoxy coatings containing Polypyrrole–Graphene Oxide (PPy–GOs) hybrid nanocomposites with various weight fraction (0.5, 1 and 2 wt%) were prepared to investigate the effect of PPy-GO on the enhancement of anti-corrosion properties in epoxy based nanocomposite coatings on mild steel. PPy–GOs hybrids, PPy and GO were characterized by FT-IR, XRD, SEM and TEM analysis and their effect on the anticorrosion performance of the composite coatings, the epoxy (E), epoxy mixed with PPy-GO (EPGs), PPy (EP) and physically mixture of PPy and GO (EP + G) coatings were studied by electrochemical impedance spectroscopy (EIS), potentiodynamic polarization and Open Circuit Potential (OCP). The results demonstrated that the dispersion of PPy-GO hybrids in the epoxy coatings improved corrosion performance of coating compared to the other coatings and maximum corrosion resistance is achieved via adding 0.5 wt.% PPy-GO. This behavior related to the better dispersion and interaction between PPy-GOs hybrids and epoxy matrix compared to other fillers.