01.01.2015 | Brief Communication | Ausgabe 1/2015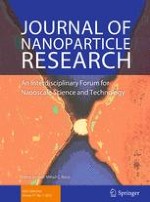 Polystyrene nanoparticles facilitate the internalization of impermeable biomolecules in non-tumour and tumour cells from colon epithelium
Zeitschrift:
Autoren:

Laura Cabeza, Victoria Cano-Cortés, María J. Rodríguez, Celia Vélez, Consolación Melguizo, Rosario M. Sánchez-Martín, Jose Prados
Wichtige Hinweise
Laura Cabeza, Victoria Cano-Cortés, María J. Rodríguez contributed equally to this work.
Abstract
Advanced colon cancer has a poor prognosis due to the limited effectiveness of current chemotherapies. Treatment failures may be avoided by the utilization of nanoparticles, which can enhance the effects of antitumor drugs, reduce their side effects and increase their directionality. Polystyrene nanoparticles have shown high biocompatibility and appropriate physicochemical properties and may represent a novel and more effective approach against colon cancer. In the present study, polystyrene nanoparticles were synthesized and fluorescently labelled, analyzing their cell internalization, intracellular localization and capacity to release transported molecules in tumour and non-tumour human colon cell lines (T84 and CCD-18). Flow cytometry and fluorescence microscopy studies demonstrated that polystyrene nanoparticles are an effective vehicle for the intracellular delivery of small molecules into colon epithelium cells. The percentage cell uptake was around 100 % in both T84 and CCD-18 cell lines after only 24 h of exposure and was cell confluence-independent. The polystyrene nanoparticles showed no cytotoxicity in either colon cell line. It was found that small molecules can be efficiently delivered into colon cells by using a disulphide bridge as release strategy. Analysis of the influence of the functionalization of the polystyrene nanoparticles surface on the internalization efficiency revealed some morphological changes in these cells. These results demonstrate that polystyrene nanoparticles may improve the transport of biomolecules into colon cells which could have a potential application in chemotherapeutic treatment against colon cancer.