01.02.2013 | Original Paper | Ausgabe 2/2013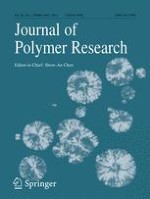 Polyzwitterionic copolymer nanoparticles loaded
in situ

with metoprolol tartrate: synthesis, morphology and drug release properties
Zeitschrift:
Autoren:

Bistra Kostova, Elena Kamenska, Dimitar Rachev, Silviya Simeonova, George Georgiev, Konstantin Balashev
Abstract
Polyzwitterions belong to the "smart" polymers' group because of their specific swelling properties which depend on pH and ionic strength of the aqueous media. Novel polyzwitterionic copolymer nanoparticles of vinyl acetate (VA) and 3-dimethyl(methacryloyloxyethyl)ammonium propane sulfonate (DMAPS) (p(VA-co-DMAPS)) with loaded
in situ
metoprolol tartrate were synthesized by emulsifier-free emulsion copolymerization in water. The influence of
in situ
addition of metoprolol tartrate on the emulsifier-free emulsion copolymerization mechanism was studied. It was suggested that the interactions between metoprolol tartrate and the copolymer nanoparticles are responsible for the creation of "bridge" connections between them and these bonds led to the formation of coagulum. To validate possible mechanisms of interaction between metoprolol tartrate and copolymer nanoparticles Differential Scanning Calorimetry was employed. Scanning Electron Microscopy, Atomic Force Microscopy, Dynamic Light Scattering and
ζ
-potential measurements were used to determine the average diameter, size distribution and
ζ
-potential of the copolymer nanoparticles. It was shown that the copolymer composition was an effective parameter for control of the release kinetics of
in situ
loaded metoprolol tartrate in copolymer nanoparticles.