2018 | OriginalPaper | Buchkapitel
2. Pore Structures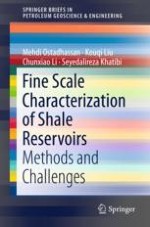 Erstes Kapitel lesen
Autoren: Mehdi Ostadhassan, Kouqi Liu, Chunxiao Li, Seyedalireza Khatibi
Abstract
Pore structures play a very critical role in the petroleum industry, which controls the capacity of oil and gas storage in the reservoir (Anovitz and Cole in Rev Miner Geochem 80(1):61–164,
2015
). Pore with different properties such as pore size and pore shape can impact the physical, mechanical and chemical properties of the rocks including strength, elastic modulus, permeability, and conductivity (Boadu in J Appl Geophys 44(2–3):103–113,
2000
; Sanyal et al. in Chem Eng Sci 61(2):307–315,
2006
; Wang et al. in J Appl Geophys 86:70–81,
2012
). Therefore, characterization and quantification of the pore structures appear to be crucial for reservoir development. The boom of the unconventional resources in the recent decade brought the attention of the many researchers' attention. Shale oil formation is one of the typical unconventional reservoirs and the understanding of these kinds of formation is still limited. In comparison to the conventional reservoirs such as sandstone or limestone, the pore structures in shale reservoirs are more complex due to the abundance of the nano-pores. In this chapter, various kinds of methods are introduced and applied to analyze the micro structures of the shale oil formation.