26.02.2019 | Chemical routes to materials | Ausgabe 11/2019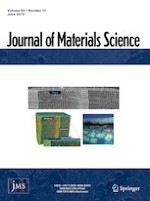 Porous crumpled graphene with improved specific surface area based on hydrophilic pre-reduction and its adsorption performance
Zeitschrift:
Autoren:

Jinlin Zhao, Zhihong Tang, Yishu Qiu, Xiaolin Gao, Jia Wan, Wenrong Bi, Shuling Shen, Junhe Yang
Wichtige Hinweise
Electronic supplementary material
Abstract
Porous crumpled graphene (PCG) with high specific surface area was prepared by aerosol method. The combination of hydrophilic pretreatment of graphene oxide (GO) and subsequent NaOH activation was the key to improve the specific surface area of PCG. Hydrophilic pretreatment of GO by ammonia prevented GO from further reduction by NaOH before spray drying and thus alleviated the aggregation of GO induced by the reduction by NaOH; subsequently, the specific surface area was improved. The specific surface area of NaOH-GO-N-4 was up to 846.31 m2 g−1, which was two times as large as that of NaOH-GO-4. Due to the high specific surface area and spherical structure, a maximum rhodamine B (RB) adsorption capacity of 340.65 mg g−1 was obtained of NaOH-GO-N-4, which was much higher than that of activated carbon with the specific surface area of 1422 m2 g−1. The kinetic data fitted the pseudo-second-order model, and the equilibrium data were well fitted by the Langmuir isotherm. The thermodynamic analysis indicated that the adsorption of RB was a spontaneous and exothermic process.