01.08.2016 | Thematic Issue | Ausgabe 16/2016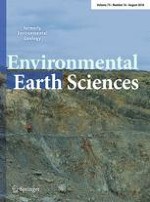 Porous media hydrogen storage at a synthetic, heterogeneous field site: numerical simulation of storage operation and geophysical monitoring
Zeitschrift:
Autoren:

W. T. Pfeiffer, S. A. al Hagrey, D. Köhn, W. Rabbel, S. Bauer
Wichtige Hinweise
This article is part of a Topical Collection in Environmental Earth Sciences on "Subsurface Energy Storage", guest edited by Sebastian Bauer, Andreas Dahmke, and Olaf Kolditz.
Abstract
Large-scale energy storage such as porous media hydrogen storage will be required to mitigate shortages originating from fluctuating power production if renewables dominate the total supply. In order to assess the applicability of this storage option, a possible usage scenario is defined for an existing anticlinal structure in the North German Basin and the storage operation is numerically simulated. A heterogeneous and realistic parameter distribution is generated by a facies modelling approach. The storage operation, which is performed using five wells, consists of an initial filling of the storage with nitrogen used as cushion gas and hydrogen as well as several week-long withdrawal periods each followed by a refill and a shut-in period. Storage performance increases with the number of storage cycles and a total of 29 million m3 of hydrogen gas at surface conditions can be produced in the long term, equating to 186,000 GJ of energy when assuming a re-electrification efficiency of 60 %. In addition to downhole pressure monitoring geophysical techniques such as seismic full waveform inversion (FWI), electrical resistivity tomography (ERT) and gravity methods can be used for site monitoring, if their individual detecting capabilities are sufficient. Investigation of the storage scenario by virtual application of these methods shows that FWI and ERT can be used to map the thin gas phase distribution in this heterogeneous formation with the individual methods conforming each other. However, a high spatial density of receivers in a crosswell geometry with less than 500 m distance between the observation wells is required for this. Gravity mapping also shows anomalies indicating mass changes caused by the storage operation. However, monitoring the filling state of this hydrogen storage site is not possible.