01.02.2021 | Energy materials | Ausgabe 13/2021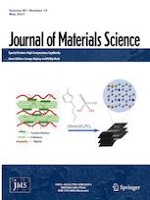 Porous spinel-type (Al0.2CoCrFeMnNi)0.58O4-

δ

high-entropy oxide as a novel high-performance anode material for lithium-ion batteries
Zeitschrift:
Autoren:

Hou-Zheng Xiang, Hong-Xiang Xie, Yu-Xue Chen, Hui Zhang, Aiqin Mao, Cui-Hong Zheng
Wichtige Hinweise
Handling Editor: Mark Bissett.
Supplementary information
Publisher's Note
Springer Nature remains neutral with regard to jurisdictional claims in published maps and institutional affiliations.
Abstract
Owing to their entropy stabilization and multi-principal effect, transition-metal-based high-entropy oxides are attracting extensive attention as an effective family of anode materials for lithium ion batteries (LIBs). Herein, spinel-type (Al
0.2
CoCrFeMnNi)
0.58
O
4-

δ
HEO nanocrystalline powder with high concentration of oxygen vacancies is successfully prepared by the method of solution combustion synthesis (SCS), and explored as a novel anode active material for LIBs. As compared to (CoCrFeMnNi)
0.6
O
4-

δ
, the inactive Al
3+
-doped (Al
0.2
CoCrFeMnNi)
0.58
O
4-

δ
anode provides more than twice the reversible specific capacity of 554 mAh g
−1
after 500 cycles at a specific current of 200 mA g
−1
, accompanied with good rate capability (634 mAh g
−1
even at 3 A g
−1
) and cycling performance. The enhanced electrochemical properties can be attributed to that inactive Al
3+
-doping resulted into the more space for Li
+
intercalation and deintercalation, enhanced structural stability, and the improved electronic conductivity and Li
+
diffusivity.
Graphical abstract
×