2014 | OriginalPaper | Buchkapitel
1. Positioning in Online Social Networks Through QDQ Media: An Opportunity for Spanish SMEs?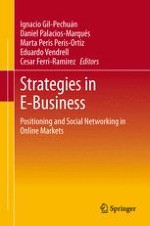 Autoren: Marta Peris Peris-Ortiz, Diana Benito-Osorio, Carlos Rueda-Armengot
Verlag: Springer US
Abstract
Online social networks (OSNs) have gained enormous popularity in recent years. The emergence of OSNs has had a significant social impact and has profoundly changed daily life. People use the Internet as a social medium to interact with one another and expand their social circles, to share information and experiences and to organise communities and activities. Internet users are playing an increasingly important role, as they not only interact with each other, but also make their communication visible to thousands of millions of people. Currently, they have the power to influence consumption behaviour through their recommendations. Companies have realised this and begun to use OSNs to announce their products and/or services to the markets. Thus, many businesses strive to invest in OSNs to create values for themselves. This work studies the specific case of the company QDQ Media which offers its customers (SMEs) positioning in OSNs to help them grow or to soften the effects of the drop in consumption due to the current economic crisis.