30.03.2017 | AT ENTERPRISES AND INSTITUTES | Ausgabe 11-12/2017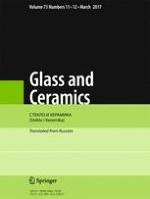 Possibility of Using the Piezoceramic PZT-19 in Pyroelectric X-Ray Generators
Zeitschrift:
Autoren:

K. A. Vokhmyanina, O. O. Ivashchuk, V. Yu. Ionidi, A. A. Kaplii, I. A. Kishchin, A. S. Klyuev, A. S. Kubankin, M. V. Mishunin, R. M. Nazhmudinov, I. S. Nikulin, A. N. Oleinik, A. V. Sotnikov, A. S. Chepurnov, A. V. Shchagin
Wichtige Hinweise
Translated from
Steklo i Keramika
, No. 11, pp. 27 – 31, November, 2016.
The possibility of using PZT-19 ceramic in a pyroelectric x-ray generator is investigated experimentally. Measurements of the x-ray spectra showed the possibility of obtaining on a ceramic surface in vacuum potentials up to 7 kV, which is very low compared with typical similar values for pyroelectric crystals of lithium niobate and tantalate. This feature is due to the significant permittivity of the ceramic. It is shown that the main criterion for picking a ceramic for a pyroelectric x-ray generation could be the maximum value of the ratio of the pyroelectric constant to the permittivity.