01.08.2016 | RESEARCH | Ausgabe 3/2016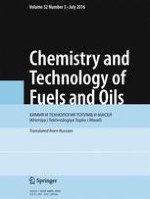 Possible Paths of Origin of Gas-Oil Systems and Causes of Differences in Their Properties
Zeitschrift:
Autoren:

M. A. Lurie, F. K. Schmidt
Wichtige Hinweise
Translated from
Khimiya i Tekhnologiya Topliv i Masel
, No. 3, pp. 22 – 27, May – June, 2016.
A sequence of possible reactions occurring during evolution of deep-lying fluids, components of which could be sources of biogenous oil substances, is studied within the confines of biogenetic concept of formation of oil. Oxidative condensation transformation of methane and its immediate homologs under the action of sulfur present in some fluids might have facilitated formation of various types of hydrocarbons and organosulfur compounds. The possibility of such transformations is supported by the stable direct correlations between sulfur concentration in oils, their density, viscosity, content of asphaltic-resinous components and heavy fractions, and the scale of oil deposits. The proportion of gas in the oil-gas systems decreases with increase of sulfur content. Metals, like V and Ni, in the deep-lying fluids affect the geochemical type of oil. Vanadium oils are heavier (V > Ni), have high sulfur contents, and occur closer to the surface, while Ni oils are lighter (Ni < V), have low sulfur contents, and occur in deeper strata. These characteristics apparently stem from the different nature of catalytic properties of the metals and the structures containing them. Transformations of the oil fluid with the involvement of heterocomponents thus affect the fractional and chemical composition of oil-gas systems.