1992 | OriginalPaper | Buchkapitel
Post-Revolutionary Food and Development Policy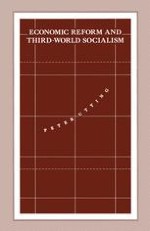 Erstes Kapitel lesen
Autor: Peter Utting
Verlag: Palgrave Macmillan UK
On seizing power in July 1979, the Sandinista government embarked on an ambitious reconstruction and development programme which sought to rebuild a war-torn economy, eradicate extreme poverty and transform an economic structure that concentrated resources in an agro-export sector controlled by a relatively small group of capitalist farming enterprises, agro-industrial processors, and finance and trading companies. The inherent logic of what has been called a 'repressive agro-export model' (IFAD, 1980) has been summed up by Fitzgerald in the following terms:
Essentially, the model had been a dualistic one where the capitalist export sector generated the realised surplus and concentrated investment, serving also as the 'Department I' of the economy through exports to finance imported producer goods…[The] peasant sector was…doubly exploited: both as a source of cheap labour and as a supplier of cheap food. Reproduction of the labour force was thus achieved at a minimum cost and released a maximum of surplus as work intensity on the estates was kept high by various forms of coercion. Moreover, much of the surplus was strictly speaking differential rent generated at an international level by the fertility of Nicaraguan soils and its favourable geographic location. (Fitzgerald, 1985a, 209)
This interpretation over-simplifies somewhat certain structural features of the model which are relevant for the analysis which follows on crisis and reform. The classic dualist image of rural Latin America — a few
latifundistas
controlling the majority of the land and a vast mass of
minifundistas
eking out a living on small subsistence plots — does not depict accurately rural social structure in Nicaragua.