08.09.2020 | Chemical routes to materials | Ausgabe 34/2020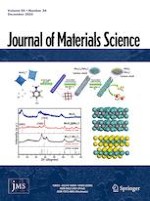 Postmetalation of a new porphyrin ligand-based metal–organic framework for catalytic oxidative carboxylation of olefins
Zeitschrift:
Autoren:

Hong-Guang Jin, Fengshi Chen, Houpeng Zhang, Wenjie Xu, Yao Wang, Jincheng Fan, Zi-Sheng Chao
Wichtige Hinweise
Handling Editor: Gregory Rutledge.
Electronic supplementary material
Publisher's Note
Springer Nature remains neutral with regard to jurisdictional claims in published maps and institutional affiliations.
Abstract
Heterogeneous catalytic reactions based on single metal–organic framework (MOF) material for the oxidative carboxylation of olefins following a tandem process, which involves the epoxidation of olefins and subsequent epoxide–CO
2
cycloaddition, are highly desirable and economical for CO
2
chemical fixation. In this work, a new
trans
-A
2
B
2
-type porphyrin ligand, 5,15-di(
m
-benzoato)-porphyrin (H
2
DMBP), was successfully synthesized and utilized for constructing a novel, highly porous, and stable Nd-porphyrin MOF, named CSUST-2. (CSUST stands for Changsha University of Science and Technology.) Furthermore, the coordinatively unsaturated Co(II) ions were implanted into the MOF by exploiting the innate non-metallated porphyrin ligands to generate Co(II)@CSUST-2 framework, which was evidenced to act as an efficient recyclable catalyst for oxidative carboxylation of olefins in the presence of
tert
-butyl hydroperoxide (TBHP) as an oxidant and tetrabutylammonium bromide (
n
-Bu
4
NBr) as a co-catalyst under mild conditions (1 atm CO
2
, 75 °C, and without solvent).
Graphic abstract
×