2010 | OriginalPaper | Buchkapitel
Postural Control Analysis during Angular Perturbations of the Support Surface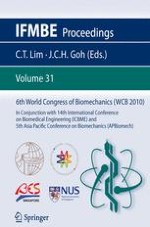 Erstes Kapitel lesen
Autoren: G. Škorja, J. Babič
Verlag: Springer Berlin Heidelberg
The purpose of the study was to examine the muscular responses of healthy adult subjects to support surface rotations in pitch and roll planes.
Instead of a simple tilting platform to induce rotational perturbations of the support surface used in the previous studies, we used a Stewart parallel platform with an integrated force platform that enabled the subjects to actively control the orientation of the platform by shifting their centre of mass position. In contrast to the previous studies where the muscular responses had no effect on the motion of the subject and were in some sense isometric responses, our reported muscular responses result in the motion of the subject's body and are therefore a better approximation to the real-world situations.
Using polar diagrams, we show the responses of four muscle groups during the stretch and proprioceptive reflex and the muscular responses based on the visual stimuli. We also showed the effectiveness of the muscles to counter the perturbations in different directions. The results show that the perturbations in anterior-posterior direction were compensated more efficiently than the perturbations in medial-lateral direction.