2017 | OriginalPaper | Buchkapitel
Potential of Solid Waste and Agricultural Biomass as Energy Source and Effect on Environment in Pakistan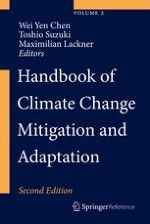 Erstes Kapitel lesen
Autoren: S. R. Samo, K. C. Mukwana, A. A. Sohu
Abstract
The issue of waste management is now a global problem because it is not only damaging soils but also deteriorating the natural state of air and water. This chapter focuses on two important aspects of solid waste in Pakistan, i.e., domestic solid waste and agricultural solid waste. The industrial and commercial activities are contributing heavily in large quantity of solid waste. Solid waste comprises of heterogeneous substances. The most common substances may belong to paper, aluminum, plastic, glass, ferrous materials, nonferrous waste, yard waste, construction and demolition wastes, etc. The issue of management of solid waste in Pakistan is a major environmental problem. Various research findings indicate that solid waste generation in Pakistan varies from 0.283 to 0.612 Kg/capita/day, while various studies indicate that the waste generation growth rate is 2.4 % per year. As a general practice, solid waste is commonly dumped on low-lying land or open vacant land area. Then, it is burned by sanitary staff to reduce its volume so that the life span of the dumpsite can be enhanced. However, the dumped solid waste does not burn completely but rather produces clouds of smoke that can be seen from miles away. This causes obnoxious smell and creates a breeding ground for flies and rats.
Various findings indicate that currently, about 60,000 t/day of solid waste is generated in Pakistan. No weighing or segregation facilities are located at any disposal sites. The wastes generated from hospitals and industrial activities are simply treated as ordinary wastes. They are jointly collected and shifted to the dump sites. The research findings indicate that common composition of solid waste in Pakistan contains plastic, rubber, metal, paper, cardboard, textile waste, glass, food, animal waste, leaves, grass, straws and fodder, bones, wood, stones, and fines to certain extent. Out of this the food wastes are 8.4–21 % of the total solid waste; paper waste 15–25 %; leaves, grass, straw, and fodder 10.2–15.6 %; fines 29.7–47.5 %; and recyclables 13.6–23.55 %. Keeping in view this proportion of solid waste, a sustainable and viable management of solid waste may be adopted by recycling, composting, and waste to energy.
In the other part of the chapter, focus is on agricultural waste which is actually agricultural biomass. Being an agricultural country, huge quantity of biomass is generated and remains unutilized or burned in the agricultural fields causing air pollution. It can be observed from Tables 6, 7, 8, and 9 the biomass residue of various crops such as wheat straw, rice husk, rice straw, cane trash, bagasse, and cotton stalk is in different ratios. These ratios are wheat and wheat straw ratio 1:1, 20 % rice husk found as waste in paddy, paddy and rice straw ratio 1:1, 23 % cane trash found as waste in sugarcane harvest, 30 % wet bagasse found as waste in sugarcane industry, and cotton and cotton sticks ratio 1:3.
Keeping in view the availability factor, the different agricultural residue biomass is used as animal feed and also as a raw source of energy at local level; hence, we theoretically consider 40 % availability of total average amount of agricultural residue biomass, i.e., 5354.73 × 103 t/year. Theoretically considering average calorific value of agricultural residue biomass 3500 KCal/Kg, then the theoretical energy content = 3500 k Cal/Kg × 5354.73 × 106 Kg = 1.91 × 1013KCal (heating value) if this amount of heat energy is multiplied by 4.81 for converting K Cal into KJ = 7.97 × 1013 KJ or KW-S. Hence, the power plants of about 10,000 MW are possible to be installed in the province of Sindh with the use of only 40 % of single source by agricultural residue biomass of only major crops.
This step will help in reducing air pollution in the region as a whole, and on larger scale it will help in restoring the climatic changes occurring around the world.