2015 | OriginalPaper | Buchkapitel
Power and Trust: Can They Be Connected in an Interorganizacional Network?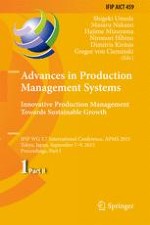 Autoren: Walter C. Satyro, Jose B. Sacomano, Renato Telles, Elizangela M. Menegassi de Lima
Abstract
Studies on interorganizational networks tend to be dense in their different aspects such as structural characteristics, nature of the links and transactional content, but light on power in networks. The purpose of this paper is to study a possible correlation between power and trust in an interorganizational network. Using quantitative methodology based on a survey sample made in 29 food companies that belong to a Brazilian food association, it was possible to statistically correlate power and trust in this network. The findings can be of importance to present what aspects the companies in this network pay more attention to: power, trust and their relationship, and to present a methodology that can be reproduced for the studies of power in networks. As a characteristic of empirical studies in networks, the temporal transversality of the nature of the sample does not allow generalizations.