01.08.2016 | Ausgabe 1/2016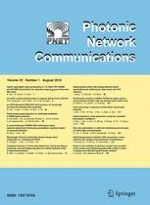 Power series-based algorithm for dedicated protection in WDM optical networks
Zeitschrift:
Autoren:

André V. S. Xavier, Raul Camelo de Andrade Almeida Jr., Daniel A. R. Chaves, Carmelo J. A. Bastos-Filho, Joaquim F. Martins-Filho
Abstract
WDM optical networks allow the transmission of multiple services with high rates and low cost. Therefore, the occurrence of a failure in any network element can cause loss of several services. Some survival mechanisms may be used to try to overcome this type of failure event. We present in this paper a new dedicated protection algorithm for link-failure survivability in WDM optical networks, referred to as power series routing-based dedicated protection (PSR-DP) algorithm.
PSR-DP
is based on the evaluation of the network links' costs by using a power series expansion. This power series expansion uses input variables based on some relevant information of the network such as link physical length and wavelength availability. Other contribution of this paper is to propose a new input variable based on the wavelength continuity constraint. The performance of the proposed algorithm is compared to other well-known algorithms in the literature. We also propose a modification to Suurballe's algorithm and compare it with our
PSR-DP
algorithm. Three different topologies are used in our simulations, and statistical analysis is performed on the results of the investigated algorithms. In all simulated cases,
PSR-DP
algorithm outperformed the other analyzed algorithms.