2017 | OriginalPaper | Buchkapitel
PowerCast: Mining and Forecasting Power Grid Sequences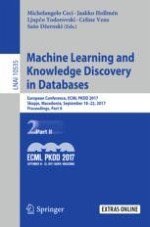 Erstes Kapitel lesen
Autoren: Hyun Ah Song, Bryan Hooi, Marko Jereminov, Amritanshu Pandey, Larry Pileggi, Christos Faloutsos
Abstract
What will be the power consumption of our institution at 8am for the upcoming days? What will happen to the power consumption of a small factory, if it wants to double (or half) its production? Technologies associated with the smart electrical grid are needed. Central to this process are algorithms that accurately model electrical load behavior, and forecast future electric power demand. However, existing power load models fail to accurately represent electrical load behavior in the grid. In this paper, we propose
PowerCast
, a novel domain-aware approach for forecasting the electrical power demand, by carefully incorporating domain knowledge. Our contributions are as follows: 1. Infusion of
domain expert knowledge
: We represent the time sequences using an equivalent circuit model, the "BIG" model, which allows for an
intuitive interpretation
of the power load, as the BIG model is derived from physics-based first principles. 2.
Forecasting of the power load
: Our
PowerCast
uses the BIG model, and provides (a)
accurate
prediction in multi-step-ahead forecasting, and (b)
extrapolations
, under
what-if
scenarios, such as variation in the demand (say, due to increase in the count of people on campus, or a decision to half the production in our factory etc.) 3.
Anomaly detection
:
PowerCast
can spot and, even explain, anomalies in the given time sequences. The experimental results based on two real world datasets of up to three weeks duration, demonstrate that
PowerCast
is able to forecast several steps ahead, with
59
% error reduction, compared to the competitors. Moreover, it is fast, and scales linearly with the duration of the sequences.