2017 | OriginalPaper | Buchkapitel
3. Pr0.7Ca0.3MnO3 (PCMO)-Based Synaptic Devices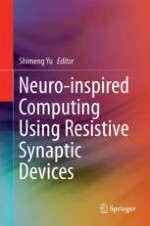 Erstes Kapitel lesen
Autoren: Daeseok Lee, Hyunsang Hwang
Abstract
On the basis of its operation mechanism, the RRAM can be briefly classified as filamentary type and interfacial type. Comparing to the interfacial-type RRAM, faster switching speed and higher scalability of the filamentary-type RRAM have been demonstrated for NVM applications. However, considering previously discussed requirements of the synaptic device in Chap.
1
, the interfacial-type RRAM is more proper than the filamentary-type RRAM exhibiting abrupt resistance changes. Thus, in this chapter, we focus on the interfacial-type RRAM for the synaptic device application. Among various interfacial-type RRAMs, especially Pr
0.7
Ca
0.3
MnO
3
(PCMO)-based RRAM which is demonstrated with wide on/off ratio, extremely stable and analog resistance change will be described. Firstly, feasibility of large-scale integration will be discussed for the synaptic device application. Then, we will move to synaptic characteristics of the PCMO-based RRAM. Lastly, various approaches that can improve synaptic characteristics will be introduced.