01.08.2016 | Ausgabe 4/2016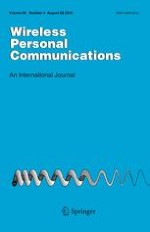 Practical Signcryption for Secure Communication of Wireless Sensor Networks
Zeitschrift:
Autoren:

Fagen Li, Yanan Han, Chunhua Jin
Abstract
Secure communication is an important task for wireless sensor networks (WSNs). Signcryption is a good choice to guarantee the security of resource-constrained WSNs since it simultaneously achieves confidentiality, authentication, integrity and non-repudiation at a low cost. In this paper, we propose a heterogeneous signcryption scheme for secure communication from the WSNs to an Internet server. In our scheme, the WSNs belong to the certificateless cryptosystem (CLC) and the server belongs to the public key infrastructure (PKI). The CLC has neither key escrow problem nor public key certificates and is very suitable for the WSNs. The PKI is also suitable for the server since the PKI technique has been widely adopted in the Internet security. We prove that our scheme has the existential unforgeability against adaptive chosen message attack under
q
-strong Diffie–Hellman and modified inverse computational Diffie–Hellman problems and indistinguishability against adaptive chosen ciphertext attack under bilinear Diffie–Hellman inversion problem in the random oracle model. As compared with the existing three certificateless signcryption schemes (i.e., YL, BF and WC), our scheme respectively costs a 28.4, 58.3, and 68.2 % less in computational time and a 26.9, 56.6, and 67.3 % saving in energy consumption (the length of transmitted message is 100 bits).