2015 | OriginalPaper | Buchkapitel
8. Practice of Geospatial Technologies in Informal Learning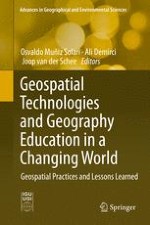 Erstes Kapitel lesen
Autoren: Osvaldo Muñiz Solari, Melody Crenshaw
Verlag: Springer Japan
Abstract
This chapter focuses on the most recurrent methods used by practitioners to practice geospatial technologies (GSTs) in informal learning.
GSTs are used by a wide range of practitioners. Being either new young generations acting as digital natives or adults with professional experience, all of them are engaged with new technologies in one way or another. If geospatial practice (GP) is defined as organized activities to analyze and interpret geospatial phenomena by these practitioners, a great deal of these exercises can be attributed to non-formal practices engaged through informal education.
The fast and transformative expression of crowdsourcing as well as volunteered GST has given new positions to informal education. Traditional roads to acquire knowledge are challenged by new ways to practice geospatial visualization to resolve Earth's problems in terms of physical and human transformation.
Voluntary participation, intense engagement with global tasks, individual and group improvisation, and flexible innovation are among the methods that are analyzed and discussed in the construction of GP. Ultimately, the free-choice learning is put in perspective to verify how effective informal education is to tackle complex geospatial problems that are global in nature.