2016 | OriginalPaper | Buchkapitel
6. Pragmatism: Objectivity Despite Fact/Value Entanglement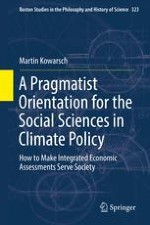 Erstes Kapitel lesen
Autor: Martin Kowarsch
Abstract
Can the pragmatic science-policy model cluster that emphasises democratic public participation and deliberation ensure reliable, politically legitimate and useful scientific assessments, despite the implied ethical and social value judgements? Section
6.1
will analyse the weaknesses of some variations of the pragmatic model cluster, including substantial open questions with regard to scientific objectivity. In order to philosophically substantiate the possibility of objective knowledge despite the value judgements involved, Sect.
6.2
will introduce pragmatist philosophy in the tradition of John Dewey and Hilary Putnam as a fundamental, convincing philosophy of science, epistemology and meta-ethics. Pragmatism combines anti-scepticism with fallibilism and fact/value entanglement. Some implications of this philosophy are discussed in Sect.
6.3
, before Sect.
6.4
develops a refined variation of the pragmatic science-policy model based on this Deweyan-Putnamian pragmatism. In a highly interdisciplinary manner, and jointly with stakeholders and the public, this refined pragmatic model suggests (i) careful exploration of alternative problem framings and (ii) critical reflection on different policy ends and means in light of the practical implications of the means (while making disputed ethical assumptions transparent). This may require a substantial revision of initial policy goals if the best available means have severe side effects. The four general norms for scientific expertise in policy (Sect
2.​1.​3
) may be realisable when employing this refined pragmatic model.