01.04.2015 | Ausgabe 4/2015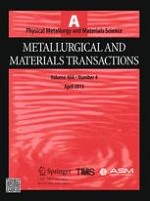 Precipitation Kinetics of M2C Carbide in Severely Ausformed 13Co-8Ni Secondary Hardening Steels
Zeitschrift:
Autoren:

Ki Sub Cho, Sung Soo Park, Hong Kyu Kim, Young Beum Song, Hoon Kwon
Wichtige Hinweise
Manuscript submitted October 12, 2014.
Abstract
With continuous heating calorimetric data as a basis, the kinetics of M2C formation during isothermal aging was modeled in severely ausformed 13Co-8Ni steels using the Johnson–Mehl–Avrami theory coupled with a variation of effective activation energy with respect to the degree of transformation. These results were compared with small-angle neutron scattering measurements and discussed in terms of variations in the thermodynamic and kinetic behavior of M2C precipitation. In particular, the M2C carbides in the deformed samples contained more Fe content compared with the non-deformed samples. As this can be ascribed to the ausforming effect increasing the driving force for M2C nucleation, it consequently leads to the decrease of the growth/coarsening rate for M2C carbides at over-aged conditions.