2017 | OriginalPaper | Buchkapitel
4. Precipitation of Heavy Metals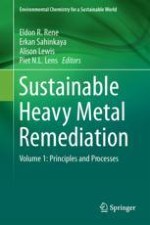 Erstes Kapitel lesen
Autor: Alison Lewis
Abstract
Precipitation is the process of solid formation from solution by means of a reaction. It is most frequently used in the removal and recovery of metals from solution. In scientific terms, precipitation is affected by a chemical reaction that forms a salt whose solubility in solution is exceeded. The thermodynamic driving force causing precipitation is called supersaturation. Definitions of supersaturation are not consistent in the literature, and a variety of equations are used for the calculation of supersaturation. The major mechanisms comprising precipitation are nucleation, growth and agglomeration. High supersaturation levels favour nucleation, whilst lower levels favour crystal growth. Agglomeration occurs in the presence of large numbers of particles, in a supersaturated environment.
Precipitation is commonly used for metal removal from wastewaters, but is not yet commonly used for metal recovery from wastewaters. Metal hydroxide precipitation is the most commonly used method, although metal sulphide precipitation has many advantages. Other methods of metal removal can be in the form of sulphate (e.g. CaSO4.2H2O) or fluoride (e.g. CaF) salts.
Crystalliser design for water treatment ranges in complexity from the simplest pipe reactor to the more sophisticated fluidised bed reactor, which is an extremely effective design for metal removal and recovery.
In summary, when using precipitation as an extremely effective metal removal and recovery method, careful attention must be paid to designing precipitation systems that are able to produce precipitates with desirable separation characteristics.