01.01.2015 | Original Article | Ausgabe 1/2015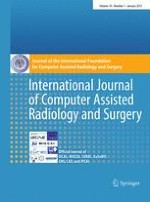 Precision of volumetric assessment of proximal femur microarchitecture from high-resolution 3T MRI
Autoren:

Alexandra Hotca, Shreyas Ravichandra, Artem Mikheev, Henry Rusinek, Gregory Chang
Wichtige Hinweise
Grant Support: NIH K23-AR059748 (G.C.).
Ethics standard
All procedures followed were in accordance with the ethical standards of the responsible committee on human experimentation (institutional and national) and with the Helsinki Declaration of 1975, as revised in 2008.
Abstract
Purpose
To evaluate the precision of measures of bone volume and bone volume fraction derived from high-resolution 3T MRI of proximal femur bone microarchitecture using non-uniformity correction.
Methods
This HIPAA compliant, institutional review board approved study was conducted on six volunteers (mean age
\(56\pm 13\)
years), and written informed consent was obtained. All volunteers underwent a 3T FLASH MRI hip scan at three time points: baseline, second scan same day (intra-scans), and third scan one week later (inter-scans). Segmentation of femur images and values for total proximal femur volume (
\(T\)
), bone volume (
\(B\)
), and bone volume fraction (BVF) were calculated using in-house developed software, FireVoxel. Two types of non-uniformity corrections were applied to images (N3 and BiCal). Precision values were calculated using absolute percent error (APE). Statistical analysis was carried out using one-sample one-sided
t
test to observe the consistency of the precision and paired
t
test to compare between the various methods and scans.
Results
No significant differences in bone volume measurements were observed for intra- and inter-scans. When using non-uniformity correction and assessing all subjects uniformly at the level of the lesser trochanter, precision values overall improved, especially significantly (
\(p< 0.05\)
) when measuring bone volume,
\(B\)
.
\(B\)
values using the combination of N3 or BiCal with CLT had a significant consistent APE values of less than 2.5 %, while BVF values were all consistently and significantly lower than 2.5 % APE.
Conclusion
Our results demonstrate the precision of high-resolution 3D MRI measures were comparable to that of dual-energy X-ray absorptiometry. Additional corrections to the analysis technique by cropping at the lesser trochanter or using non-uniformity corrections helped to improve precision. The high precision values from these MRI scans provide evidence for MRI of the proximal femur as a promising tool for osteoporosis diagnosis and treatment.