Erschienen in: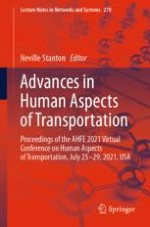 2021 | OriginalPaper | Buchkapitel
Predicting Lane Changes by Identifying Sequence Patterns of Implicit Communication Cues
Abstract
Lane changes (LCs) are highly complex, therefore the announcement and anticipation at an early stage of these maneuvers is important for traffic safety. Since manual drivers mainly apply implicit driving cues, automated vehicles (AVs) need to be able to detect and apply these cues to enhance the acceptance of AVs and therefore exploit the benefits of automation. The current study aimed at identifying typical communication cues and prototypical sequence patterns that announce prospective LCs at an early stage. In total,
N = 
298 LCs were annotated in video recordings of a real-world driving data set. The analysis revealed the turn indicator and the vehicles' lateral movement towards the target lane as the most frequently and initially applied communication cues to announce LCs. The identified driving cues could be used by AVs to announce and anticipate prospective LCs at an early stage and therefore enhance traffic safety and efficiency.