01.01.2009 | Ausgabe 1/2009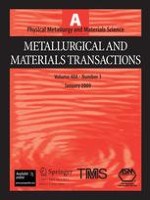 Prediction of Shrinkage Pore Volume Fraction Using a Dimensionless Niyama Criterion
Zeitschrift:
Autoren:

Kent D. Carlson, Christoph Beckermann
Wichtige Hinweise
Manuscript submitted July 28, 2008.
Abstract
A method is presented to use a dimensionless form of the well-known Niyama criterion to directly predict the amount of shrinkage porosity that forms during solidification of metal alloy castings. The main advancement offered by this method is that it avoids the need to know the threshold Niyama value below which shrinkage porosity forms; such threshold values are generally unknown and alloy dependent. The dimensionless criterion accounts for both the local thermal conditions (as in the original Niyama criterion) and the properties and solidification characteristics of the alloy. Once a dimensionless Niyama criterion value is obtained from casting simulation results, the corresponding shrinkage pore volume fraction can be determined knowing only the solid fraction-temperature curve and the total solidification shrinkage of the alloy. Curves providing the shrinkage pore volume percentage as a function of the dimensionless Niyama criterion are given for WCB steel, aluminum alloy A356, and magnesium alloy AZ91D. The present method is used in a general-purpose casting simulation software package to predict shrinkage porosity in three-dimensional (3-D) castings. Comparisons between simulated and experimental shrinkage porosity results for a WCB steel plate casting demonstrate that this method can reasonably predict shrinkage. Additional simulations for magnesium alloy AZ91D illustrate that this method is applicable to a wide variety of alloys and casting conditions.