2006 | OriginalPaper | Buchkapitel
Prediction of strain localisation in forming process using advanced elasticplastic behaviour models coupled with damage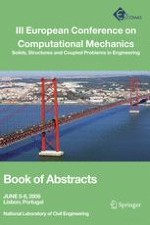 Erstes Kapitel lesen
Autoren: B. Haddag, F. Abed-Meraim, T. Balan
Verlag: Springer Netherlands
This work aims to study the strain localisation in the sheet metals during the deep drawing process. This phenomenon is precursor for the failure of drawing parts, so its prediction with more sophisticated behaviour models is an active field. Using elastic-plastic behaviour models is not sufficient to predict the final failure of sheet components, although the localisation zones are often well located in finite element simulations. To improve the prediction capability, it is important to consider in the behaviour models, the degradation of the material properties due to damage and to use a criterion for plastic flow instability.
For this purpose, an elastic-plastic model coupled with the classical damage model of Lemaitre and Chaboche [
1
] is developed. In the elastic-plastic constitutive laws, two different hardening models are considered to reproduce more accurately the work-hardening phenomenon at moderate and large strain. The first one is the classical cyclic hardening model of Chaboche [
1
] and the second one is the dislocation-based microstructural model of Teodosiu and Hu [
2
]. These two models reproduce the transient hardening phenomena at strain path change; a better description is nevertheless obtained with the microstructural model. The coupling with the damage is carried out in the frame of continuum damage mechanics thanks to the introduction of a scalar variable giving the degradation of the elastic proprieties. In order to define the critical value of damage during sheet forming, the Rice's localisation criterion [
3
] is introduced giving the limit of formability of sheet metals.
The coupled elastic-plastic damage model and the Rice's criterion are implemented in the Abaqus software. Simulations of rheological tests are realised on two steel grades, a mild steel and a dual phase steel, showing a very different softening behaviour when damage occurs. Indeed, the flow stress decreases more rapidly for the dual phase steel at the final stage than for the mild steel. To show the capability of this model to predict the strain localisation on industrial applications, the Nakazima tests are considered and computational results are discussed.